2014 has been a great year for beauty lovers- in my humble opinion, I think it's been the best year yet. With all the new brands to hit Irish shores, all the new products to hit our shelves and all the new innovations, we have been truly spoiled. I've been considering my products of the year for the last month and finally I have whittled down the list. To stop this post from being the longest post ever in the history of the blog however, I've separated my lists into two different posts- this one for my high end loves and one for my drugstore/pharmacy/high street loves (
click here to read
).
Best Foundation
This is THE hardest category so I said I would get it out of the way first- and I think the accolade has to go to my beloved
Estee Lauder Double Wear
. I just keep coming back to it, I love the shade (Cool Bone), the coverage and the longevity, I've prob gone through 5 bottles this year alone but the fact that I keep returning to it and repurchasing speaks volumes. An honourable mention has to go to my beloved
YSL Le Teint Encre de Peau
and you can
read my rave review of that here.
Best Foundation Base
Clarins Beauty Flash Balm is a longtime favourite of mine and I just love how this preps my face for foundation. I love the texture and the smell of it, it is probably my favourite Clarins offering. I always pick up a couple of Clarins sets at this time of the year because they are such good value so I'll be picking up an extra two tubes of this at least in the coming weeks because I just love it that much. Any foundation I have ever tried over the Clarins BFB looks great, it's not tinted but it somehow just evens everything out. I sometimes wear this on the rare few days where I don't wear any foundation at all because it just gives instant radiance in a non-shiny and non-shimmery way.
Best Concealer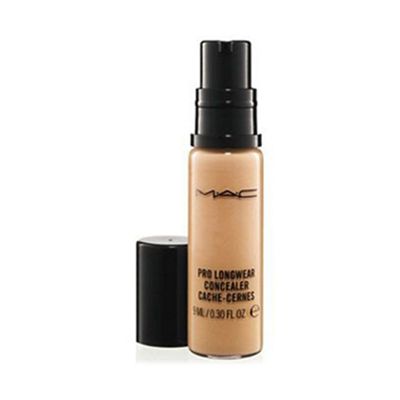 MAC Pro Longwear Concealer in NW20. When it comes to concealing blemishes, this is the concealer to have on hand, and a little goes a long way. I haven't had to repurchase this yet because it lasts the longest time and you only need the littlest amount which I think makes this pretyy
Best Powder
NARS Light Reflecting Pressed Powder is an absolutely exceptional setting powder, and probably the best setting powder I have ever come across. It doesn't really mattify but it leaves just the loveliest soft focus on the skin, almost like an airbriished effect, and this makes any foundation look a zillion times better and more flawless. I hit pan on this months ago but I still seem to have loads left. Honorable mention has to go to my Hourglass Ambient Lighting Powders- in the last few weeks, I've been using these almost exclusively and I'm LOVING them.
Best Highlighter
The Balm Mary Lou Manizer.
Oh I have a love/hate relationship with Mary Lou. On one hand, it is the most amazing champagne highlighter ever that has converted me towards highlighters in general. On the other, I am on my THIRD one, and it's not because I love it that much, it's because it's the most goddamn fragile piece of makeup I have ever owned, and somehow, I've destroyed two of them. I am taking uber care of my current and third, and even though I complain about repurchasing, I know that I couldn't be without it!
Best Bronzer
NARS Laguna hands down wins this award because it is my favourite bronzer ever for bronzing up my face, it's not too warm or cool, a lovely contour shade, it's just an amazing product and I haven't found any other bronzer quite like it. Honorable mention also goes to Benefit Hoola.
Best Contour
Kevyn Aucoin Sculpting Powder is a lovely cool ashy contour colour that, unlike my drugstore alternative, looks perfectly acceptable on my pale untanned state. This is expensive there is no doubt, but it feels luxurious and is the easiest powder to use.
Best Highlighting/Contour Palette
Charlotte Tilbury Film Star Bronze and Glow is amongst the most beautiful pieces of makeup that I own with it's luxe gold packaging encasing a bronzer and highlighter. The bronzer is a nice shade for warming the face more so than contouring, and the highlighter is quite subtle when applied lightly. This is expensive at 75 bucks but you know, it's one of those investment items that just reaps so many rewards each and everytime you use it.
Best Blush Palette
Hourglass Ambient Lighting Blush Palette
is just perfection in a palette and I swear, every time I open the shiny gold case and am confronted with the sight of three beautifully marbled blushes, I feel a little heart ripple of love. It is exquisite and the colours are just divine on your face. I think the thing with Hourglass Ambient Lighting powders and blushes is that they just breathe life on to your face and even if you feel like crap and think you look hideous, these are just godsent saviours. I got this from the Space NK website so not sure of the € price but I think it's around the €69 mark. Saucy I know- but it's great sauce.
Best Blush
Charlotte Tilbury Blush in Love Glow
is a gorgeous peachy shade that is just perfection on the cheeks and I've worn little else since I got it. It's miles better than NARS Orgasm in terms of delivering a healthy peachy pinky glow. And also to pay homage towards my new love of neutral blushes, I have to acknowledge my beloved
MAC Blushbaby
which is a close second in this category and
I've expressed my love for this in this post.
Best Eyeshadow Palette
This was soooooo hard, honestly I feel such a traitor, but I think I have to give this award to the
Lorac Mega Pro Palette
which has just won my heart since I snapped it up online in the beginning of October.
Check out my detailed review and swatches in this post for more info
if you so desire. I wish soooo much that we could get Lorac more easily here in Ireland but thankfully, Amazon.com is ready and willing to post Lorac goodies to Ireland for decent prices without customs snags. This palette is perfection and literally has every colour you need to create beautiful Christmas looks.
Best Eyeshadow (Single)
No surprises here but I am going to have to go for my MAC single eyeshadows- ok, I know they are pretty extortionate little pans when you compare them to Inglot etc., and don't get me wrong, I love Inglot, but I reach for my
MAC eyeshadows
over and over and over again. Standout colours for me are Woodwinked, Patina, Sable, Nylon and Satin Taupe. The pigmentation, colour payoff etc, make it all worth it for me. I also have to mention the
Makeup Geek eyeshadow pans
which are just amazing- again, customs charges can be a bit prohibitive so take care when ordering so you don't go over the €30 threshold- if you are feeling brave and want to make an order, I recommend any of the shades in the
Starter Bundle Kit
which I blogged about in November.
Best Cream Eyeshadow
MAC Paint Pots are heavenly and I believe I have about 15 of the buggers now. My favourite is still Painterly but I also use Constructivist, Groundwork and Rubenesque on a regular basis. These guys never dry out unlike my Benefit Creaseless Cream Eyeshadows which dried out completely within weeks of me first using it. I have had my Painterly pot on the go now for over two years and I've still got plenty of product left. They are great eyeshadow bases, great for lazy days where you couldn't really be bothered with makeup, just great all rounders.
Best Mascara
Lancome Hypnose mascara- the original one- has a special place inside my very fussy mascara heart. I love the wand, I love the formula, I love the volumising, lengthening effect it gives. I find myself repurchasing this over and over, even favouring it to my beloved Christian Dior mascara. This is a new 2014 find for me but I predict it will be a favourite for many years to come.
Best Eyeliner
The Benefit They're Real Push Up Gel Liner impressed me this year- so much so that I repurchased it for the Christmas season. I did not want to buy into the hype, and I really expected not to like this as much as I did but I really did love it in all honesty. I delivers dark, non-shiny gel, is easy to use one you get the hang of it, and lasts all night long. This is more of a night time than a day time mascara in my mind but it lasts and contrary to popular opinion, I do not believe that it's that hard to remove.
Best Lipstick
Well anyone who has met me in the latter quarter of the year will know that I am absolutely head over heels obsessed with, completely in love with the
NARS Audacious lipsticks
, particularly the shade Anna. I have nine of them, so strong was my love for them, and I don't think I've worn anything else since I picked them up. The formula is AMAZE, the color payoff on one swipe is AMAZE and everything about these is just AMAZE. I would go so far as to say you have not experienced lipstick until you have tried these.
Check out my full collection and swatches here.
Again, I have to give a mention to MAC lipsticks, particularly the Lustres and Amplified Cremes, for their consistently great performance and colour selection.
Best Lip Liner
Charlotte Tilbury Lip Cheat in Pillow Talk is my favourite lipliner ever because again, it's just a gift that keeps on giving. This is a perfect shade for defining the shape of your lips and can be used with any other lipsticks- pinks, nudes, reds. I never really bothered with lipliner apart from when I wore red lipsticks but since I got this, I use it at least 3/4 times a week. It's not cheap but if you feel the need to splurge on a lipliner. look no further.
Best Nail Polish Brand
Essie consistently impress me with their nail polishes- between the selection of colours, the ease of application, the lasting power sans chippage and the creamy opaque finish. I've tried many different types of nail polishes and whilst I am not interested in nails enough to justify spending big bucks on a nail polish as opposed to a lipstick, foundation or blush, I have no problem shelling out 10 bucks a bottle for Essie nail polishes. Their summer pastels are particularly impressive so I look forward to busting them out again when it is more seasonally appropriate.
So there you have my top high end beauty picks of 2014 and I personally recommend each and every single one of these products to my readers if you are looking for high end recommendations for 2015. As I mentioned above, I've also undertaken the same exercise with my
high street/drugstore/pharmacy favourites
so if you're interested in that, grab a cuppa and click this link for a read!
Did any of your favourites make my cut?